The Huawei Ascend M860 Uses A Qualcomm MSM7625 System-On-Chip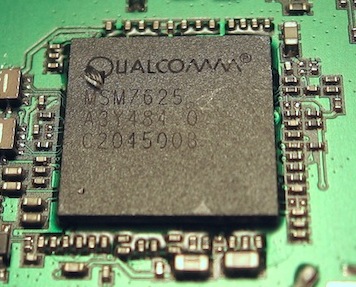 I am working with this phone, also known as the Huawei Ascend, and it's been very hard to get good information about it. It is claimed to use at least three separate SOCs -- the MSM7201, the MSM7625, and the MSM7627.
Of course only of these can be true, and the truth is that it uses an MSM7625. This is the CDMA version of the MSM7225. Unlike the MSM7627, which has an Adreno 200 GPU onboard, the 7625 does not have an onboard GPU.
I suspected the M860 had the 7625 SOC because the onboard kernel configuration (in /proc/config.gz) indicates it, and because the only configuration that builds without modification in the Huawei-released kernel sources is for the 7625. But of course I couldn't be sure without taking the phone apart and photographing the chips, so that's what I did. I don't recommend you do this if you don't have to.
Part of the problem is that the phone is apparently overclocked to 600MHz from the standard 528MHz.
More photos: The whole board; The SOC (each file is around 1.5MB)